The Tapei Cycle Show isn't Interbike. It wasn't designed for dealers (and the press) to ogle next-year's new products a little early and place orders for their shops. Even though most bike shop owners will received tons of invitation cards, and believe or not, those cards are usually distributed to the consumers. The exhibition is for major and minor bike manufacturers to purchase components and find good OEM factories. Therefore, biz meetings are shrunk in the short 4-day show. I myself was lucky to get an VIP invitation to the exhibition.

The usual criticism of Taipei Show is its late timing, but things still go well due to the fact that now everybody agrees that Taipei Cycle has changed into show a P&A manufacturers and distributers. As for those aftermarket or trading purposes, a mid-March show seems to be appropriate. At the same time, it would "probably" attract more people to see Tour de Taiwan even though La primavera might be TEN times better worth to see. After the show, the official host held an press conference to claim the show was held perfectly and very successful. Usually put much emphasis on the scale of it - During the first three days of the show, 4,562 overseas visitors came to the Nangang venue as well as about 22,000 domestic visitors. I don't buy that. The software of Nangang Exhibition hall still should be improved and has a large gap to the real international ones. The parking lots are not enough, and the foods are super expensive and extraordinary unsavory. Unfortunately, you have to get used to it. You have to spend like more than 30 mins to get a normal hamburger or lunch box in the convenient store, or you have to wait for a seat in an restaurant located in the 1st floor. Come on, that's an "International" Exhibition hall, but the only thing that international enough is the price level of it. - Same price level in Paris or Roma, very funny.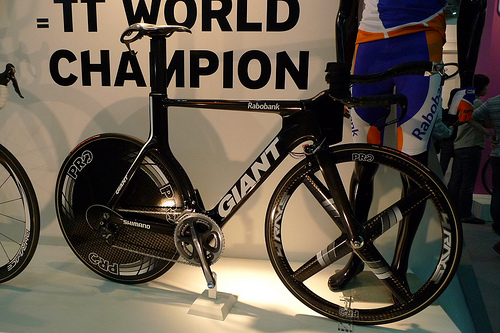 After complaining about the show, I think there's still something interesting. I spent some time in the show, but most of the time I was hovering in the Santini booth, the place which Daniel and Uma have to stay for 4 days. I think the most attracting item was the Shimano Dura-Ace electronic shifting system - It is fantastic that I have never had this kind of experience before. I have to say it will be super competitive compare to the 11s kit. The 11 speed grouppo was good and useful, but not innovative enough. Campagnolo's booth was right next to Shimano. I go through Campy's booth for couple minutes - still nothing for anticipation. Shimano put many of its people explaining how their new derailleurs work. In the Contrast, Campagnolo didn't send any crews to explain their products. I think it's more reasonable because the show was a b2b show, and they don't expect any of their consumers to be involved.

Giant was a stop for more than an hour. This should all be attributed to Nixon. Nixon is an R&D advanced engineer of Giant MFG. Co. He was standing in front of his lovely adored TCR bike for a long time. At the beginning we were just chatting nonsense - you know, just like gossiping, then I asked about the cyclocross. As everyone knows, Giant was chosen to be the sponsor for Rabobank this year, and one of the very first challenge for them was cyclocross bike. Rabobank's effort on cyclocroos will not allow a lousy product exist in the course. Nixon told me that they were already doing one, and with my full expectation, I think it will be totally fresh and new.- Just like their road bike series. I asked him some of the teams' gossips, and of course, the Rabobank. He mentioned that the reason they change the sponsor was not only the quality of the bikes but the service of the bicycle company. As a Colnago owner, I was not surprised at all. The design of a Colnago bike was unique, and the painting was special, too. However, the QC of the factory wasn't as good as its price label. It would be really disappointed like this: one day you woke up in the early morning, and you are going out for riding. Suddenly, you found out that some part of the painting has fallen off from the frame. And the worst thing is, you spent more than 2500 dollars for the frame.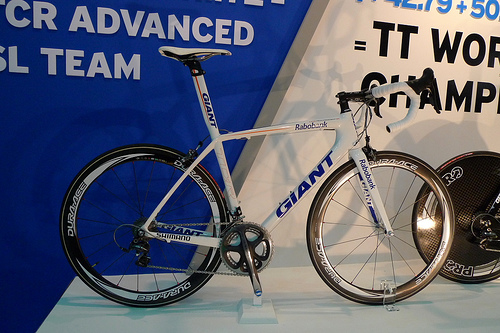 Ok, let's come back to Giant. The 2009 TCR wasn't too attractive for me now. I checked it out months ago, but never have a chance to ride one. Sometimes I would joke about it and say it's my destiny. I peered over a guy wearing a nice suit standing in Campagnolo, and he looked extremely familiar. Nixon told me he is Fausto Pinarello. Of course! I've seen his pictures on cyclingnews before. I didn't see a pinarello booth in the exhibition, and Nixon said he might probably just a visitor.

Just a few minutes coming back to the Santini booth (It has become my sanctuary for days), Rick came and talked to Daniel. Rick is a wheel designer in Tom Ritchey's company. We were chatting for a while and listen to his complain about the traffic and food here, and then Daniel and I went to Ritchey to check the new wheels. Ritchey products are always useful and practical - without too much luxury decoration. The wheel Rick design is just like the core value that Tom Ritchey always tries to deliver. They use the spokes that you can get easily like DT swiss revolution or Sapim CX, and the boxing rim is one of my favorite design. Rick is a aggressive rider and joins the race sometimes. He said he tested the wheels for a long time, and the duration and performance were quite impressive. Suddenly we talked about Joe Breeze. Daniel said he met Joe in the flight, and Joe was sitting just next to him. Rick told us that Joe might be the person who knows the industry well, and was a master of the bike history. Daniel was quite surprised because Joe was just like an old gentleman who really likes to ride very well. " He was pulling an old-fashion suitcase and nervously sitting next to us." Daniel said, " And pull out a huge map in Taipei City, planning for bike routine excitingly."

Next day Daniel introduced me to Joe. Joe was really a nice person, who works for his ideal all his life. Joe is a pioneer. He introduced his great invention - the mountain bike products to the local market. The boom of MTB must be dedicated to the four pioneers, along with Gary Fisher, Charlie Kelly and Tom Ritchey. He created his own Breezer Bike brand, and the company first put the MTB grouppo into a bike. Rumor has it that this Breezer bike now is collected by Shimano Company. Joe tried to deliver his own value of commuter bike. I think the product was cool but too expensive for normal commuter. Then he showed us his MTBs. I like his steel frame MTB, but Joe told us that the welding was not so good because it was only made for the show. I mentioned it was a pity that he didn't make RB frames anymore, yet he told us he was planning to build a titanium frame for himself. Even though the brand Breezer has sold to Ideal Bike Co,. I still very long for a Breezer RB frame myself. Joe and Daniel invited me to join their early morning riding on Thursday, but unfortunately I have classes and can't get up that early.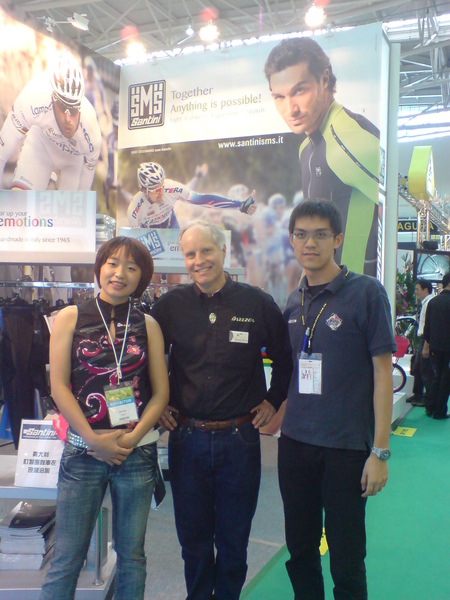 From Left: Uma(小花), Joe Breeze, and I


The last thing I thought was really amazing happening in FSA booth. At that time I was chatting in the coffee bar with the coffee barista, Terry, and a man ask me for translation. He wants to show his appreciation to Terry, who made such a good cup of coffee for him. Not until himself mentioned his bike was shown in Helioser booth did I realized the man was Mr. Scapin. He cannot speak English, so after he spoke Italian words, his company translate to English, then I translated into Chinese for Terry. A very complicated situation right in the FSA booth. Mr. Scapin was very proud of his products, but I heard that they don't own the company anymore after the show.

Even though I spent days in the exhibition, I still didn't go through many booths. As for me, I think the chance to meet so many different people in one occasion is a good experience. I heard something that I seldom think of, and something that I never consider it critically. If there's something pitiful, it would be the food. I wish we can have better meal next year. You know, walking around in the hall will be super exhausted.