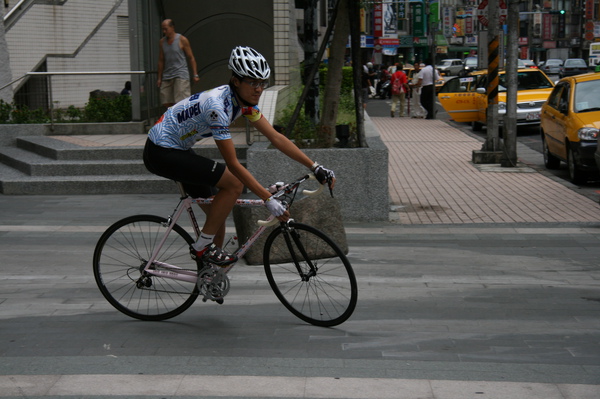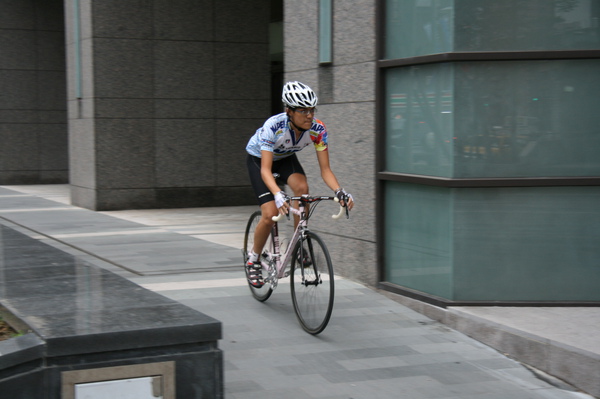 If time goes back to an year ago, it will be very difficult to convince me that a steel bike performs as well as the new technology. Stiff, direct, and ambitious. I was used to considering a steel bike in a naive way - heavy frames, steel forks, threaded stems...etc, yet I'm not totally correct. The bloody truth showed us how new tech and tubes meet a great master. That means it will bring the world a masterpiece.

I borrowed one Dario Pegoretti's Big Leg Emma last Saturday, and I have to thank Mr. Casati, who lent me a bike in a pre-typhoon day. Pegoretti BLE is the stronger version of Marcelo, which cut and added some small coppers into the downtube and thickened the chainstay. The "Leg" things in the name reminds you how strong the chainstay and downtube are, and also how interesting the frame herself is. Everything goes very well except the weight and the price. A 56CM size bike weigh 4.1lbs(1860g), which might be twice as heavy as a Scott carbon frame. Moreover, the other obvious downside is its price. $4500 for a frame with the regular painting. It is VERY VERY expensive.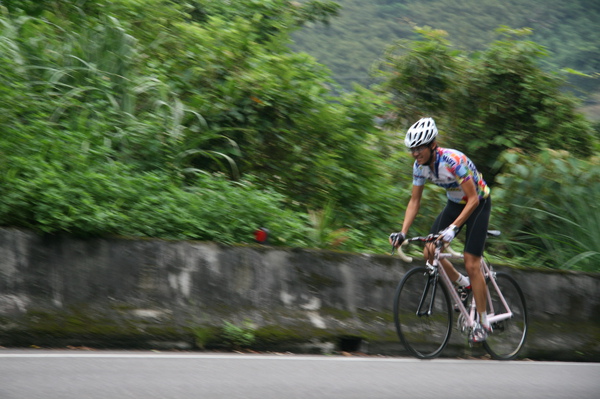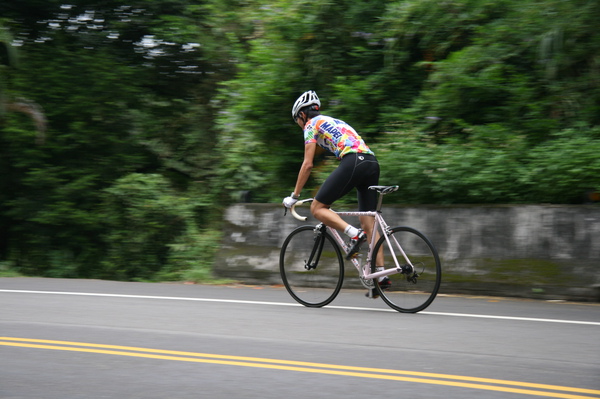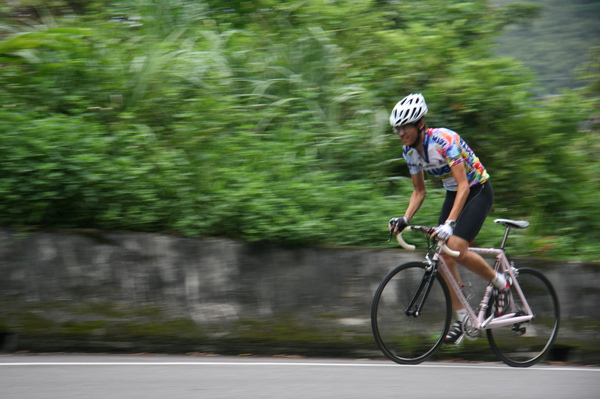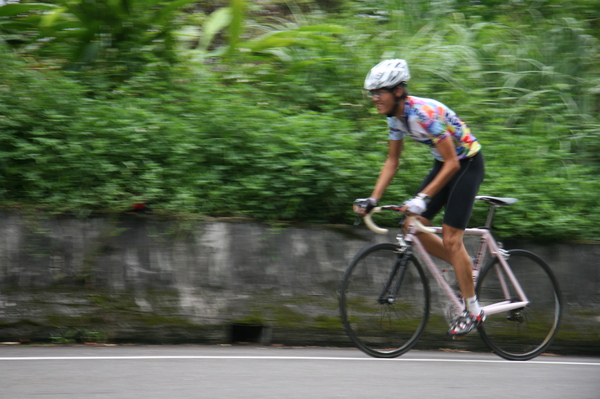 Sometimes we are talking about the "leftover" material on the bike. That means sometimes the manufacturer created the frame far too strong, and accidentally added too much weight for normal users (not pros). Dario's BLE is an extremely greasy one. The invasive design brought me the first image, yet the elegant pink facade slapped me back to reality. It's really modest. The avant-garde painting style elaborates a lot of details - dropouts, seatpost clamp, and those tubes are boutiques. Dario turned the frame into a canvas, or a fresco in the church. He wants to show the world not only his capability of frame building but his art talent.

The bike equipped the following components: Campagnolo 9s Record grouppo with Tiso rear derailleur, PMP crankset and BB, Corima wheels with PMP hubs, and Speedplay clipless pedal system.

When I first stepped on the bike, I was really confused by the Speedplay pedal system. The system is totally not friendly for the first time user. I spent 15 mins to get use to it. After solving this small problem, I was very impressed about the pedaling platform of BLE. The Bottom Bracket is of course super stable, and it is really easy to catch up the tempo. Power losses are minor, even though I did not step hardly on the pedals. I gradually accelerated to 40 kph on the flat section, and "automatically" leaning my pelvis to the position. The bike indicates well and make me confident in the high speed corners. The day with typhoon was not a good day for testing, but I tried my best to create my own experiment. Those fat tubes created strong supports while I was pedaling off the saddle. Some expected little horizontal drags are diminished. Instead, the frame went perfectly straight a head without hesitation.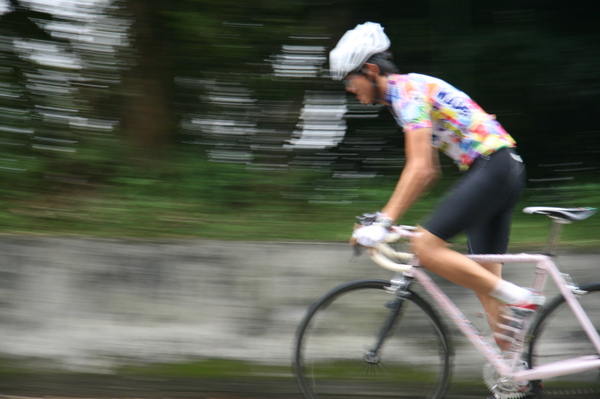 To compare with Casati Laser Carbon, the heavy issue which BLE holds made to be its main feature. You can quickly find out you are towing a huge thing, and feel very disappointed. Casati Laser has good reaction, and it is lighter. I think Casati Laser Carbon is even more comfortable than BLE, yet the Ambrosio Nemesis wheels and tubulars on Casati might did some effort, too. Super light frames create good feeling to your body. Literally," Feel good by yourself." Often this feeling cheats you, especially when you check your riding log at home. However, BLE is not. You'll be painful while climbing and sprinting. However, after examining your stop watch, you would find out what was going on. The BLE push you harder, and brought you the thirst to attain higher speed. Once you are a man with power, BLE might be your wing. - Maybe a wing plus an turbo engine.

Some commentators and critics says BLE fits big guys better. I think it is partly true. Due to its thick tubes, it will be very ugly in a size under 54cm. But being big is not the whole thing. If you can generate huge power, for instance, 300W LT, BLE is one of the best choices among the steel frames. I have to say it doesn't mean anything to compare this frame with some advanced carbon technologies. BLE is truly a machine with fun, but not suitable for races. The price and weight is my main concern. I mean......you are not going to harm a $4500 masterpiece in a silly North Coast Race or to climb Alishan with a 4.1lb frame, are you?